Where has term 5 gone??!! This term is going so fast!
We all got very excited after reading 'Supertato' and Evil pea made a few appearances in Blue class! Everyone made fantastic model traps to capture Evil pea and stop him from causing mischief.
The children have had so much fun learning about superheroes this week. we have made masks, written about our super powers and designed costumes. When the children dressed up as their favourite superhero they enjoyed saving the Eli characters who had all got lost around the outdoor classroom!
Thank you for your continued support listening to your children read.
Yipeee it is SCIENCE WEEK
We have been asking lots of questions already to try and find out what is in the mystery box. We have been using our question words such as When, Where, What, Why, How???
We wanted to find out which slope our car traveled the furthest on. Can your child remember which slope it was (wood, rubber, wool or sandpaper)?
We used toilet rolls and paper and have a competition going to see who can build the tallest tower.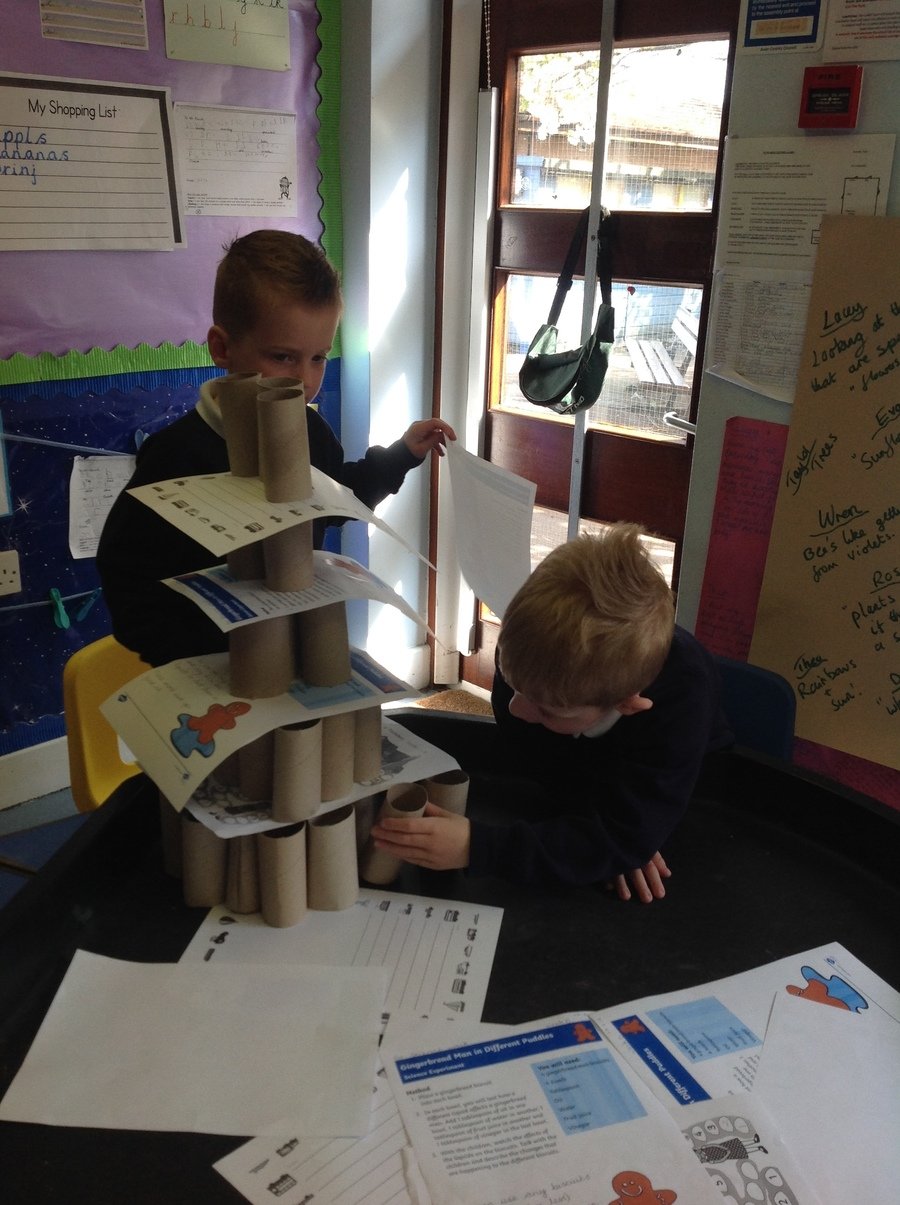 The PCSO's came to visit us. It was lots of fun finding out about their jobs.
SPRING DAY
We had such a lovely day. The day began in the best way ever, 4 of our chicks had hatched in the night and have been chirping at us all day. We went on a walk to look around at nature and spot all the signs of Spring. Then we created a Spring poem and then it was time to get creative and make some amazing paper flowers and paint flowers too. Thank you to everyone who sent in the wonderful spring flowers for us to draw.
We had fun in our Zumba class today. Here are a few action shots.
Happy New Year
Week 1-2
We enjoyed reading 'Stickman' and talked about all the different places he visited. We made Stickmen and took them on a Winter walk. The children have been doing really well learning their digraphs and the actions that accompany them, so far we have learnt:
ai, ay, er, ou, ow, ee, igh, ch, th, ng, sh, qu, ar, oa, oo, oo, ur, er, or
Please practice these at home and see if they can show you and explain the action.
Week 3 - 4
We have shared the book time book 'Little monkey' and written letters to Mr Ruck to tell him about the mess little monkey had made on our tables! We have ordered numbers to 20 and been practicing recognising our numbers to 20. We have looked at different habitats and discussed which animals live there and why some animals cannot live in other habitats and environments. In PE we have been moving like different animals around the hall and we have enjoyed following yoga routines.
We had fun at our Christmas Party. We hope you have a lovely holiday!
Week 7 & 8
We have been learning about Goldilocks and the 3 bears. We have enjoyed reading different versions of the story and role-playing in the bears house. Tomorrow we are making and tasting our own porridge.
We have also been working hard on our fine motor skills, which will help us to write our sounds. This week we have learnt;
c, k, e, u, h, r, b, f, l
Please practise these at home. See if you can make some words like 'cat, rat, tin, pot, man, nap' etc with the letters.
We are continuing Goldilocks and the three bears next week.
Week 6
We have introduced numbers 0-11 so far and have been practicing counting out different amounts.
The sounds we have learnt so far....s, a, t, p, i, n, d, o, g, m, c, k, ck, e
please practice these sounds with your child.
Children have counted bricks from our story this week of the three little pigs and have begun to match numerals to the amount they have counted.
We have been talking about things we have found in nature and looking at changes (Autumn). Why have the leaves fallen off the trees?
Next week we are going to be learning about Goldilocks and the three bears. Please read this story to your child before we begin.
Thank you for your continued support.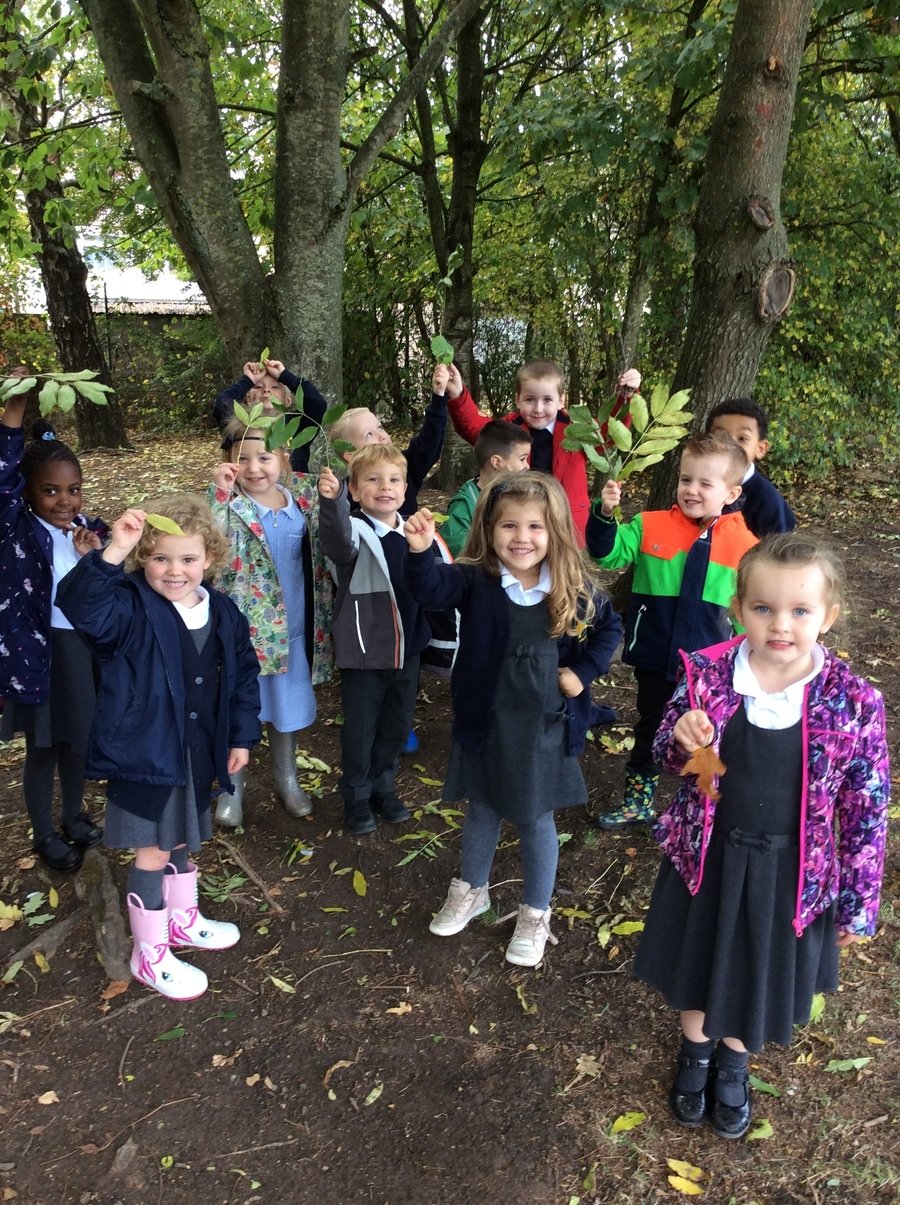 We have been making houses for the Three Little Pigs.
Blue
We have enjoyed getting to know our new friends in Blue Class. We have been talking about our families and the special things we like to do together.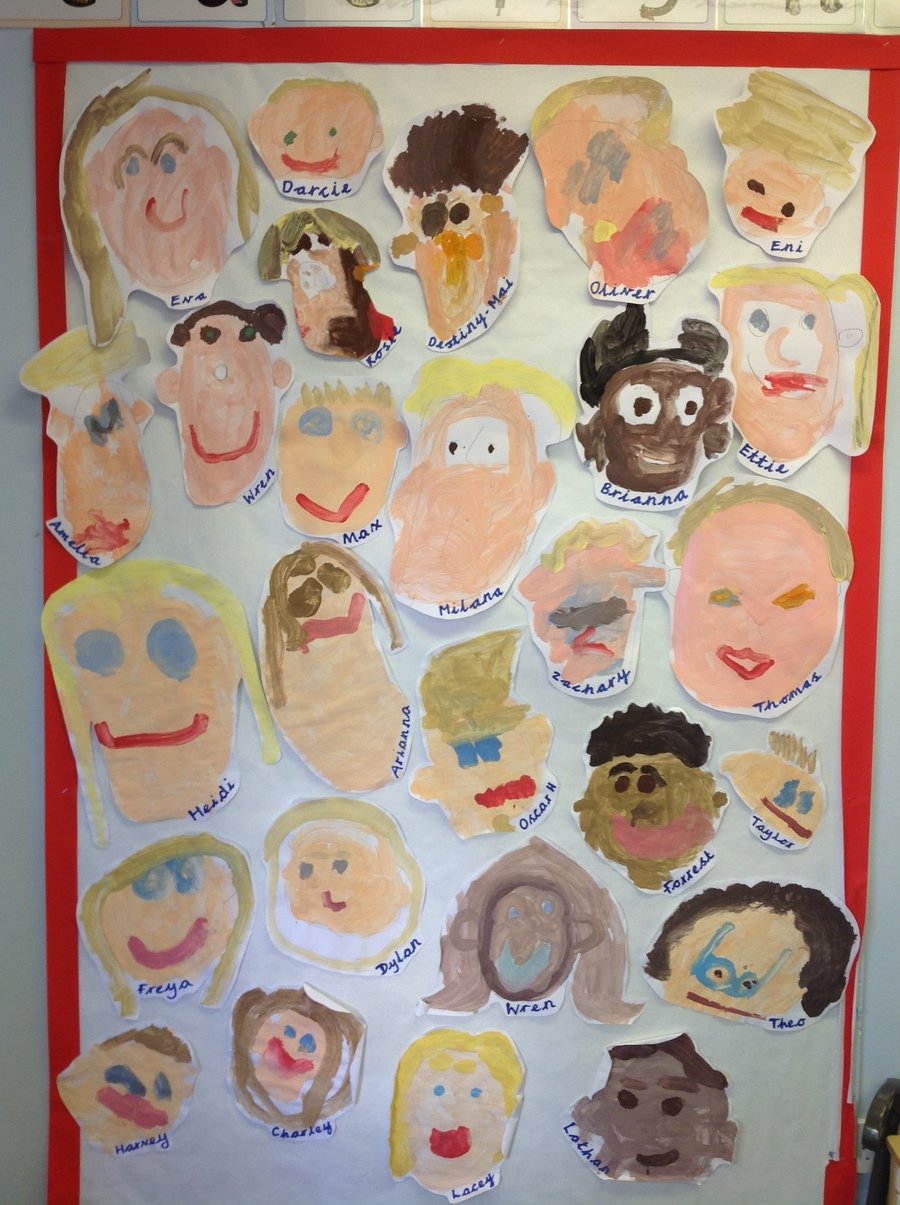 Term 1 week 4
Wow!! The children have been amazing on their first day being full time. They have played number games in the classroom and counted lots of teddies for me and they have all had fun playing in the resource area. They have got on so well with everyone all together today.
Lunchtime went well they happily got their food and sat nicely to eat all they could manage and then had a play outside all together.
Well done BLUE class you are the BEST.
Term 1 Week 2
WOW! What a FANTASTIC first week at school we've had!

The children have settled in really well and have enjoyed exploring the different areas in school. We have been really busy doing lots of different activities in the classroom, resource area and the outdoor classroom such as painting, play dough, water, sand and construction. We have photos on our class window of what we have been up to.
We've all made lots of new friends and can't wait to come back next week!
Term 1 Week 3
This week we went on a welly walk to talk about nature and collected lots of sticks, leaves, bark, apples and acorns.
Every one used their listening ears during PE where we moved around the hall in different ways and practiced hopping and standing on one leg. We have been looking at shapes and naming circles, triangles, rectangles and squares. We have also written our names and drawn a picture of our family.
We have had a busy week.
Next week we shall be staying for lunch, please ensure your child knows whether they are having a 'packed lunch' or 'school dinners' each day. Thank you
Please also remember children will need a coat everyday as we use our outside space as much as we can.
THANK YOU