Pegasus
Welcome to Pegasus Class!
Week 5
Pegasus Class visited Red Class to share the stories they had written in response to How to Wash a Woolly Mammoth by Michelle Robinson & Kate Hindley. They have spent the last couple of weeks drawing illustrations and thinking of instructions for how to wash a variety of dinosaurs.
This week we have been learning how to tell the time on an analogue clock. Please continue to work on the following times at home:
o'clock
quarter past
half past
quarter to
5 past, 10 past, 20 past, 25 past
Week 2
This week we have had our St Stephen's Got Talent year group heats. Everyone did a fantastic job - Well done to everyone that took part!
Congratulations to:
Layla, Tiya, Isabella and Jovie and
Cassius and Edie
for making it through to the Semi-finals!
We also took part in Infant Agility this week, which is organised by CSET and involves lots of multi skills activities. Thank you to the junior children for helping to keep score!
It was lots of fun! We practised aiming and throwing, sprinting, balancing and jumping.
Week 1
Welcome back and Happy New Year!
We've had a busy week back at school and have managed to squeeze in a lot of learning in 4 days! On Tuesday, we discovered some mysterious objects in the allotment and after carefully brushing off the mud, we realised they could be dinosaur fossils! How exciting!
We wrote a letter to a palaeontologist to invite him to come and help us identify the fossils we found. We think it might be an undiscovered new dinosaur!
In maths we have been learning how to solve simple multiplication questions using repeated addition and division questions using pictures.
Ask us one and we'll show you how we can solve it!
e.g
12÷4=
15÷5=
22÷2=
Week 8
For our PE sessions on a Monday, we have been working with Abbie and Will from Bristol Rovers partnership. They have been teaching us different skills linked to team games; finding a space, passing and defending. Today we played a game that had to be adapted so that we remembered not everybody has to go and chase the ball. We also supported each other by giving feedback and having a chance to get better/improve our performance.
Week 7
We have been busy planning and building Tudor houses over the past two weeks.
Take a look at our designs:
We then burnt them outside, just like the Great Fire of London! We talked lots about how to keep safe.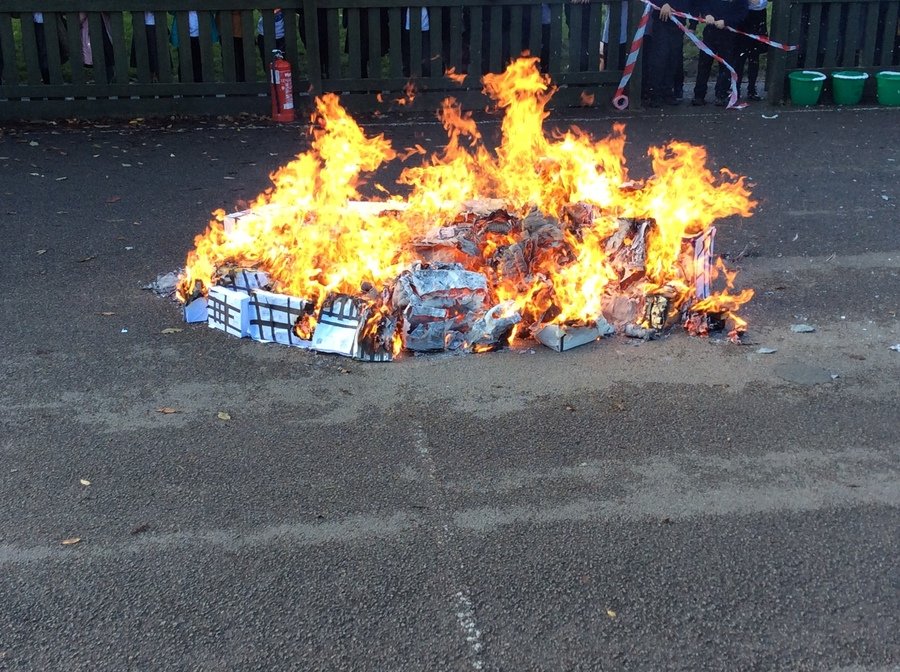 Weeks 5 and 6
In Science we have been exploring different materials such as metal, plastic, fabric, wood and glass. We have thought about what each material is used for and why.
We predicted what would happen to the Gingerbread Man if he got caught out in the rain and tested this by putting drops of water on him. We found out that he became soggy, mushy and fell apart! We then thought about how to keep him dry and what materials are waterproof.
We have all settled in really well and have enjoyed exploring our new Year 2 classroom.
We have been so busy during the first few weeks of term! This week we had a visit from Warburtons and made our own bread! We followed a recipe and kneaded our dough into shape.
Take a look at some of our star bakes: