Red
Term 6 Week 3-
This week we have been writing about farm animals and making non-fiction books. We have also been printing 3D objects to see what shapes they make. In the classroom we have made a writing room and we have some special 'teacher' pens in it!
We are growing some beans, courgettes and flowers in our classroom and we have found a pet snail in one of the pots. His name is Reddy!
Term 6 Week 2-
We have just had our farm visit which was our first school trip! It was amazing! We had such a good time together at Court Farm. We saw the cow being milked, looked at lots of animals, fed the lambs, went on a big slide and loved the castle play area!
Look at the photos of us having fun!
Term 6, week 4-
This week we have had such a lot of fun learning about Superheroes. We have written about our super powers and designed our own costumes. We have made masks and traps for Evil pea. On our Superhero day we dressed up and had a great time!
Here are some of our 'flying' photos;
Term 5, week 3-
This week we are learning about Superheroes! We are reading Supertato and we have discovered that Evil Pea has been into our classroom! We are going to set some traps for him to see if we can catch him.
In Literacy we have written about Evil Pea and we have done lots of amazing superhero learning in the Resource Area.
In phonics we are learning the trigraphs;
ear, air, ure
We are doing our class assembly on Friday 17th May at 9.15 in the hall. Please come along and watch!
Term 5, weeks 1 and 2-
We have had a great start back to school and we have been learning about Jasper's Beanstalk. In the outdoor area we have been digging and planting seeds. We have enjoyed using our new mud kitchen and making mud pies! We love being outside when the weather is like this!
Have a look at the fun we have had with our learning!
Term 4, week 6-
This week it is Science Week. We are going to be doing lots of experiments in the class and outdoors. We will be talking about questions all this week like the Elli character, the curious cat.
There is some home learning for this week in your child's book bag.
On Monday we watched a Fizz Pop science show and we were amazed to learn about air and how things fly. Here are some pictures from the show;
Term 4, week 4
Today is Spring Day! It is the first day of Spring and we are very excited because 4 chicks have hatched! It has been great to see the shells crack and the chicks to emerge. Today we are looking at Spring flowers and as well as planting some sunflower seeds, we are also going to be making craft flowers with lots of different materials. In our cross-phase groups we are going to work with older children to make Spring art in different classes. What a great day!
Look at the fun we have had;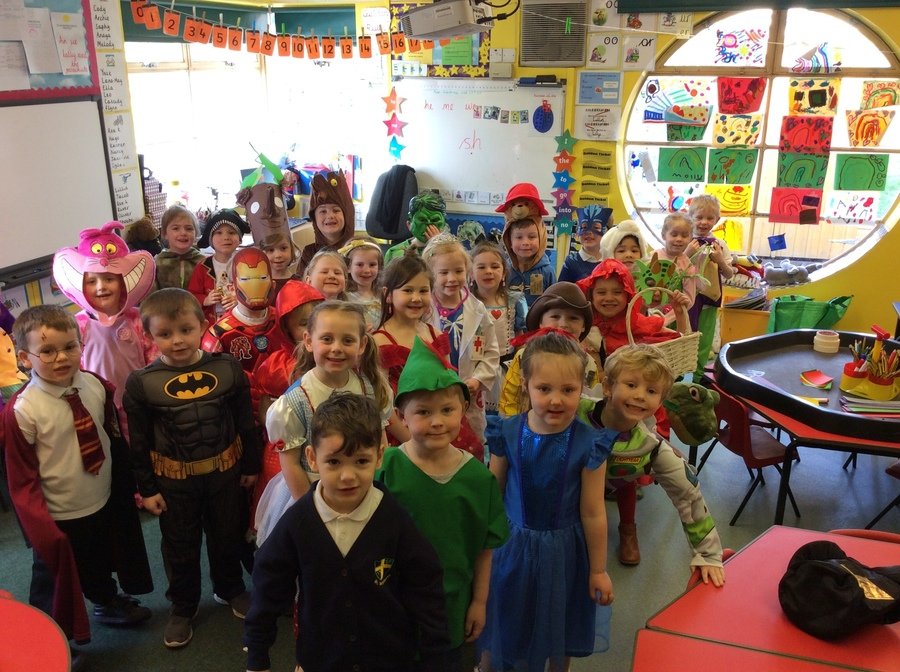 Zumba Session 2
We have LOVED our Zumba sessions so far! We know a full routine to two songs already!
Check out Paddington Bear, Little Red Riding Hood and the Hulks moves!
Term 4, week 1
We hope you had a lovely holiday!
Over the next two weeks we are learning all about keeping healthy. We are going to write about how to stay healthy, role-play going to the doctors, make a poster to help others to keep healthy and taste some delicious fruit. We also have 3 sessions of Zumba for the next 3 Thursdays, so your child will need to wear their P.E kit on Wednesday and Thursday.
In phonics we will be reading and spelling;
he, me, we, she, be
Term 3 week 1-
This week we have been learning the digraphs;
qu, ch, sh, th, ng
When we put these letters together they make one sound. Can you write some words with these digraphs in with your child?
Our topic for the next two weeks is Stick Man by Julia Donaldson. We will be doing writing about stick man. role-play, making stick people and making 'wintery' music about the story.
Here are some photos from the first week back!
WOW what a busy last day we have had! We had a special visit from Father Christmas, played pass the parcel and had a party in the hall and had some party food with our friends. We have had so much fun!
A big THANK YOU for all of the kind Christmas gifts and a big
MERRY CHRISTMAS to everyone!
See you in Term 3!
Miss Rice and Mrs Rogers x
Weeks 6 and 7-
This week we have had such fun performing our Nativity. We really hope you enjoyed it!
As our topic is Christmas, we have done lots of lovely activities such as making cards, calendars and decorations.
We have also written letters to Santa!
Here are two pictures of us dressed up!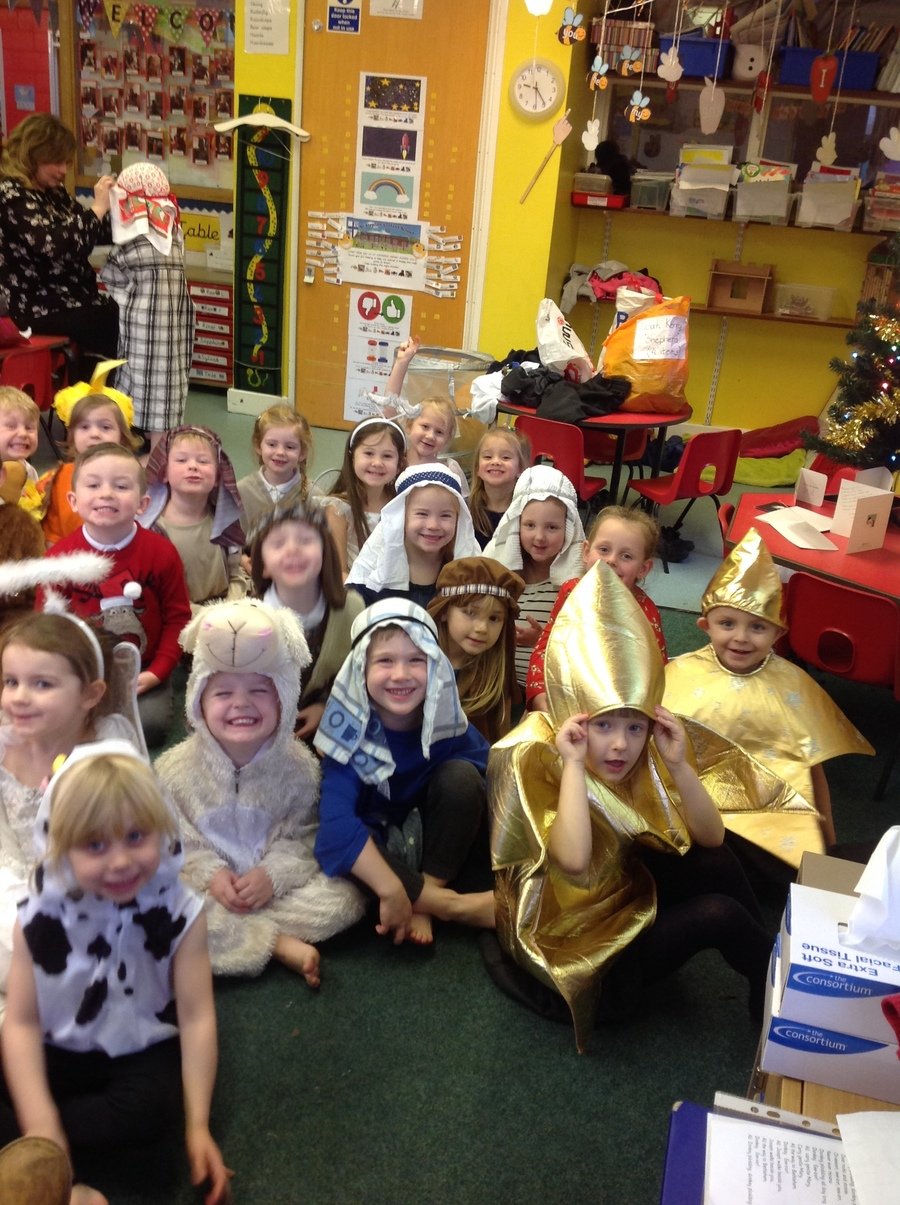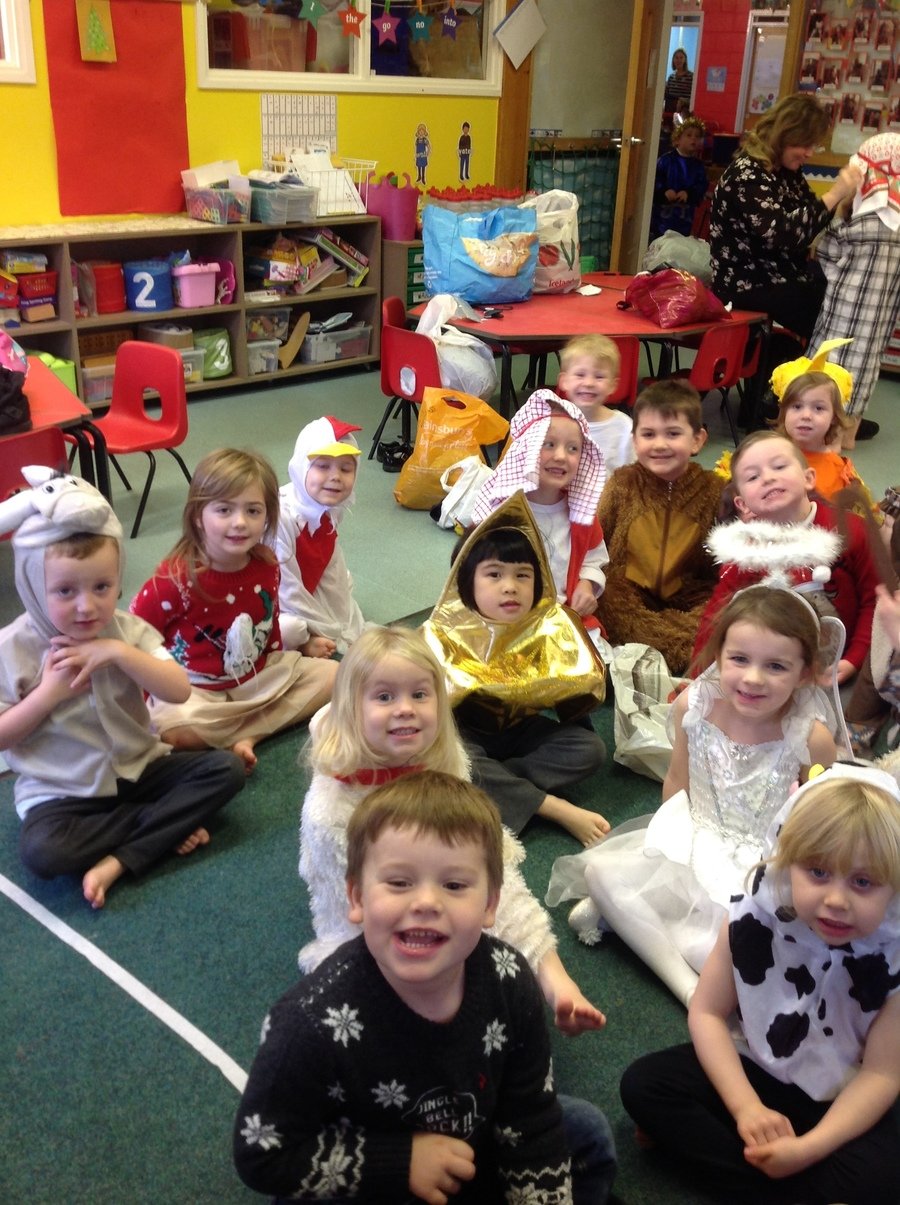 07/12/18 - Today we performed 'A Wriggly Nativity' to the rest of the school and some children from a local nursery. We wore our costumes for the first time and did a fantastic job at singing and saying our words!
We can't wait for you to see it on Monday and Tuesday!
Term 2, Weeks 3 and 4
Over these two weeks we have been very busy practising our Christmas play 'A Wriggly Nativity.' We have enjoyed learning the songs and doing the actions.
Term 2, Week 3
We have had a busy week this week! We have been using the story, Owl Babies, to support our writing and have had a go at writing a list of what we might find in a nest.
We have also practised forming the letters: n, m, d and g.
Below is the rhymes we use in school to help children remember the formation.
Term 2, Week 1
This week we have been finding out about Diwali and we have talked about another celebration, Bonfire night. It has been good fun playing and learning in the Resource area.
In phonics we have been doing our single sounds;
y, z
and our tricky words;
I, no, to, go, the
Please practise these at home too!
We have been learning about Goldilocks and the 3 bears. We have enjoyed reading different versions of the story and role-playing in the bears house. It was great when we made and tasted our own porridge.
We have also been working hard on our fine motor skills, which will help us to write our sounds. This week we have learnt;
c, k, e, u, h, r, b, f, l
Please practise these at home. See if you can make some words like 'cat, rat, tin, pot, man, nap' etc with the letters.
Term 1 Week 5
We have really enjoyed basing our learning around the Three Little Pigs this week. We have been learning the story, building the pigs houses out of different materials (such as bricks, sticks, straws and various construction), creating role play props and acting out the story.

We already know lots of sounds! We can recognise and say the sound for:
s, a, t, p, i, n, m, d, g and o!
Ask us how to do it!
Term 1 Week 3
We had our first PE session this week - it was so much fun! We took our shoes and socks off and walked down to the hall together. Then we had a go at moving around the hall in different ways such as crawling, jogging, skipping, sliding and hopping. Miss Rice was really impressed with how well we listened to instructions!
What a lovely week we have had! The children have settled really well and have enjoyed playing in the different areas in Reception.
We are pleased with how well Red class have learned the routines and how they come into school. Please make sure your child brings a coat everyday. Here are some pictures of the walk we did around the nature area and allotment;
Term 1 Week 2
WOW! What a FANTASTIC first week at school we've had!

The children have settled in really well and have enjoyed exploring the different areas in school. We have been really busy doing lots of different activities in the classroom, resource area and the outdoor classroom such as painting, playdough, water, sand and construction.
We've all made lots of new friends and can't wait to come back next week!