Hello, Welcome to St Stephen's Infants and Red Class.
I am really looking forward to meeting you all very soon. I hope you enjoy the story.
Term 4 Week 3
We have been learning about amazing animals this term, including reading a book called Handa's Surprise. We are also very excited to have some eggs in the Resource Area, which are soon to start hatching! We will have baby chicks in Reception!
In phonics we have been learning the digraphs;
ar, or, er, ur
Well done if you completed the reading challenge too!
Here are some photos for you;
Term 3 week 6
This week we have been doing lots of reading and tricky words.
Please practise these words at home with your child (if they don't know them yet)
me, he, we, she, be
Here are some lovely pictures of us reading together;
Term 3, week 5
Pegasus Class came down to Red Class today to share the books they had written based on the story of How To Wash A Woolly Mammoth by Michelle Robinson & Kate Hindley.
Today we practised writing numbers on whiteboards when Mr Doyle showed the numicon pieces. Some of us were challenged and were even able to add two numicon pieces together and write the number! Wow!
Term 3, weeks 3 and 4
We have been learning about Goldilocks and the Three Bears. We have read the story and make different voices for the characters. On Tuesday we cooked and tasted porridge, which was yummy! We talked about what happened when we heated up the oats and added milk. In Shape, Space and Measure we filled the bears cups with juice, while talking about if the containers were full, empty or half full. We have also been making toys for the bears using scrap and junk.
In phonics we have been learning the digraphs;
oa, oo/oo, ar
Well done if you've been reading at home too!
Term 3, weeks 1 and 2
Welcome back everyone! We hope you had a great Christmas and happy new year to you all!
This term we are learning all about traditional tales, beginning with The 3 Little Pigs. We will be learning lots about stories such as the characters, plot and setting. In our writing we will be sounding out words and doing simple sentences. In the Resource area we will be making houses for the pig, building with mini bricks and 'cement', role-playing the story and testing materials for the pig to stay dry when it rains.
In phonics we will be learning the digraphs;
qu, ch, sh, th, ng, ay, ai, ee, igh
Please practice these at home and try to think of some words containing them!
Thank you!
Term 2, week 7
We have had fun making Christmas cards and calendars this week. In Literacy we have been doing lots of blending and reading simple words.
On Wednesday we had a carol service in the hall and we sang around the Christmas tree. Our lunch was delicious and the children loved the decorated tables!
Many thanks for the presents you gave us and have a very happy Christmas!
From Mrs Rogers, Mr Doyle and Mrs Osborne x
Term 2, week 6
This week we have performed our Nativity 'A King is Born' and made Christmas cards. Its been very busy but great fun!
In phonics we have learnt;
y, z.
We have now finished the alphabet. Try and see if your child knows them all yet?
Soon we will be making our Christmas calendars which is exciting too!
Here are some pictures of us concentrating on cutting carefully.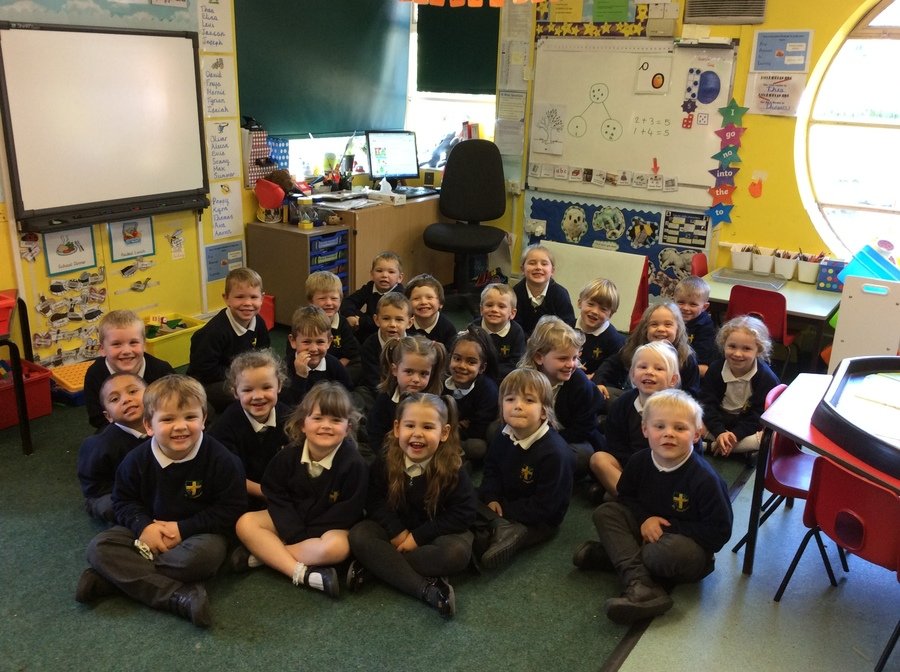 Term 2 Week 5
We have been busy practising for the Nativity. The dress rehearsal today looked great!
We hope to see you at the fayre where you can buy Red Class's 'schoolmade' reindeer food. We used this experience to write instructions. In phonics this week we have learned j, v, w, and x. We practised reading CVC words during guided reading. A great game can be found to help at home by clicking on this link hanging monkeys.
Term 2, Week 4-
This week we are introducing some 'tricky words.' These can't be sounded out phonetically and need to be learnt by sight. Please practise these at home. Can your child spell them too?
I, to, no, go, the
We have enjoyed the topic of celebrations. On Tuesday we decorated biscuits and had a party in Red class! It was great fun! In maths we have been thinking about using language such as 'taller' and 'shorter', 'tallest' and 'shortest.'
Term 2 Week 3
Thank you for attending parents evening and finding out children's next steps in learning! The children have been busy working hard learning phonics. We have learned (and will keep practising):
s, a, t, p, i, n, m, d, g, o, c, k, ck, h, e, u, r, b, f, l.
This week we also looked at ff, ll and ss. The home reading books will help the children to practise reading these sounds too! Please keep reading at home. It is amazing what the children can do already!
We have been checking key words this week too (reading by sounding out and blending). Set 1 of the key words will come home in reading books next week.
Week 8-
This week we have been finding out all about hedgehogs. In Phonics we have learnt the sounds;
g, o, c, k
We have been making simple 3 letter words with the letters we know so far. Please practise at home too!
Weeks 6 and 7-
We have been learning about our families and making friends. We have enjoyed phonics because we have now learned 8 sounds!
Please practise these at home;
s, a, t, p, i, n, m, d
We have been making words with the sounds like;
sat, pin, pat, mad, tin, sit, pit
In maths we have been saying words to describe position such as 'under, over, behind, above, beside, next to, in front.'
Here are some pictures of us having fun learning;
Weeks 4 and 5-
We have been reading We're Going on a Bear Hunt by Michael Rosen. We joined in with the repeated refrains and the used small world play to act out the story! We had some scary bears but decided he may just need a friend as he looked so sad at the end of the story.
We have been finding out all about each other by joining in with circle times, learning names and talking about what we like doing. We also had our first assembly with Mr Ruck, which was great. At the moment we are doing lots of counting in Maths and in Literacy we are listening for the first sound in words.
The children have had lots of fun in the Resource area and in the classroom. This week we are going on a nature walk to find natural objects.
Here are some pictures;
Thursday 19th September
What a fun day of learning we have had! Whilst we are still only half the class, it was the perfect time to try out some yoga on the farm. The children talked about keeping our minds healthy and being relaxed whilst making lots of different body shapes. We used CosmicKids on you tube.
We are very excited to be starting a new year with your children. During the Induction period we get to know them, play games together, explore the school and introduce the Golden Rules. It's been a great first two weeks with lots of playing an learning taking place. Our topic is All About Me, where the children find out about each other, learn names and talk about their families.
In Literacy we are looking at words which rhyme and in Maths we are focusing on counting using 1-1 correspondence.
Here are some pictures of your child at school;