Music Day
We had lots of fun during music day. We responded to different music through dancing around the hall. We played the Djembe drums in different ways, keeping a steady beat and making up rhythms. We also watched parts of the Cbeebies prom, listening to the different sounds the instruments made in the orchestra.
Summer day
We went on a walk around the school looking for signs of summer. We found flowers, grass and insects. In the allotment we could see different flowers growing and bees collecting nectar. We could see strawberries, raspberries, leeks and other vegetables growing.
We also mixed up in our cross phase classes and made kites. In the afternoon we flew our kites and had a yummy ice lolly.
Our trip to court farm
We had a great day at court farm. When we arrived at the farm, farmer Ed greeted us and showed us around the farm. We saw horses, ponies, pigs, goats and an alpaca. Then we went to see the cow being milked and we fed the lambs. Next we had our lunch outside, played in the play ground and had one last look around the farm, before getting the coach back to school.
We all made right choices and had a fun day!
Yellow class are all superheroes!!
We have enjoyed learning around our topic of superheroes. We read the story 'supertato' and evil pea even visited our classroom and ate Miss Aksu's lunch! We went on a hunt around the resource area looking for clues.
We also had lots of fun on superhero day. We used our powers of being kind and helpful to help some adults around school. We helped Mr Ruck water the plants, we delivered messages for Mrs Harris, we picked up rubbish from the field, we washed up the milk cups and we helped the dinner ladies put out the cups. We were very busy.
We have also been getting ready for our class assembly. We have been practicing our song and retelling our story that we have made up.
We had lots of fun during jump rope. We all kept on going like the tortoise to practice our skipping.
We helped Mr and Mrs Webb and Mr Ruck on the allotment. We helped to plant flowers and tomato plants. We dug a hole, and took the pots off the plants carefully. We looked closely at the roots and then planted it in the ground.
Science Week
This week we have been very busy asking questions like the curious cat and being scientists. We have looked at question words such as, who, what, how and why. We have asked questions about objects and answered questions through carrying out experiments. We have looked at melting ice, cars and 3D shapes going down different textured ramps and we have tested which foods dissolve in water.
We also had a visit from Cole's Dad, who very kindly talked to us about his job as a paramedic and bought along an ambulance. We had lots of fun exploring the ambulance, pretending to drive it and hearing the sirens.
Cricket Session
Today we had a cricket session with Craig. We learnt how to bounce and catch a tennis ball and throw it in the air and catch it. We did super listening and we kept on going like the tortoise. We need to use our eyes, cup our hands and look at the ball when we are throwing and catching.
We had a visit from two Police community support officers, who patrol and support the local area. They talked to us about their role in the community and how they help people. We got to see how their radio works and learnt all about the uniform they wear. We even got to have a look inside the police car and hear the siren. It was very loud!
Spring Day! It is the first day of Spring and we were very excited because 4 chicks have hatched! It has been great to see the shells crack and the chicks emerge. We looked at Spring flowers and as well as planting some sunflower seeds, we also made craft flowers with lots of different materials. In our cross-phase groups, we made Spring art in different classes. What a great day!
Look at the fun we have had;
We have had lots of fun during our Zumba sessions. We learnt 3 routines and Debbie was great at teaching us all the moves!
Zumba
This week we had our first Zumba session, that we are doing as part of our 'Keeping Healthy' topic. We had lots of fun with Debbie, who taught us 2 routines, a rock and a pop routine. After we learnt the moves and practiced the dances we could choose our favourite. We then performed this to the other group and then swapped over.
Chinese New Year
We learnt about how Chinese new year is celebrated. We all drew a picture of the celebrations and could talk about things such as, they clean their homes, they have new clothes, they celebrate with their families, have fireworks and have lucky red envelopes with money inside as a gift.
We watched videos of lion and dragon dancing and re created that in PE. We made our own yellow class dragons, all taking it in turns to be the dragon head at the front. We moved to the music and thought carefully about how the dragon moved.
Winter Morning
We took our stick men that we made on a winter walk as part of the whole school winter morning. We looked out for any signs of winter and any changes that have occurred since our Autumn walk.
We also mixed up in our cross phase classes and made a snowflake using paper. They are now hanging in the lobby area.
(please click on the photos to enlarge them).
We had lots of fun at our Christmas Party!
Merry Christmas and a Happy New Year. See you in 2019.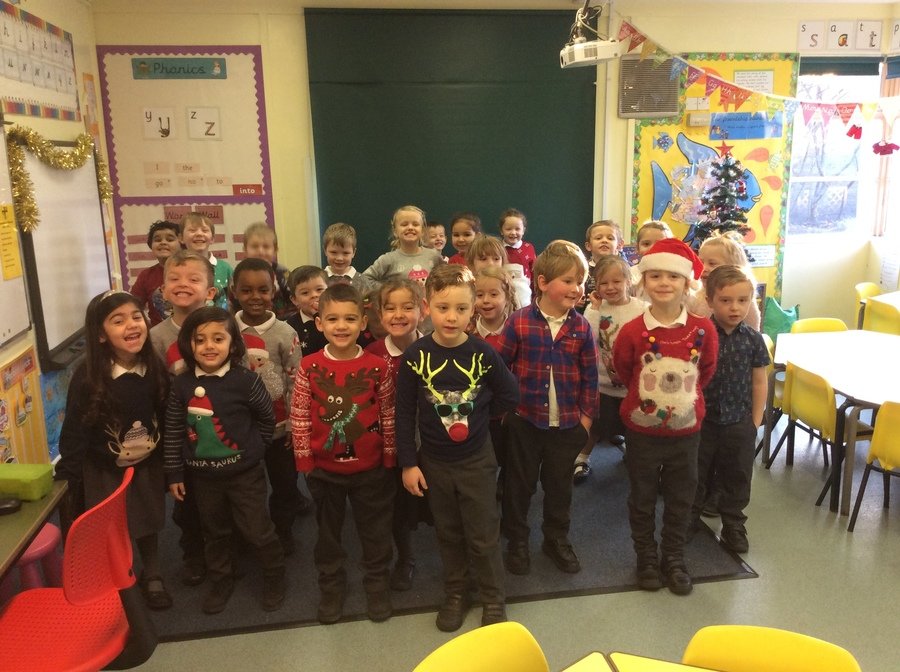 Posting our Christmas letters to Father Christmas.
The children used their phonic knowledge to write a wish that they would like for school.
We have finished rehearsing our 'Wriggly Nativity' and look forward to performing it next week.
FAB week.
We have done lots of exciting things during friendship and anti-bullying week. We have thought about what makes a kind friend and made a friendship rainbow fish. We drew around our hands, cut them out and an adult wrote down our thoughts on what makes a kind friend inside.
We learnt in our cross-phase groups and made friendship bracelets. We also thought about what we could do as a random act of kindness. We thought of 5 adults in school, Mr Ruck, Mr Doyle, Mrs Harris, Mrs Stokes and Mrs Dyte. In our groups we drew a picture of them and thought about their qualities. We wrote them down and gave them our pictures. They were all very happy and said that it made their day.
On Thursday afternoon, we had a parachute session with Mr Ruck. It was lots of fun! We played different games and loved making the parachute go high into the air.
Autumn Day
We went on a wellie walk and looked out for changes that are happening now we are in Autumn. We collected lots of leaves on our way around the school. When we came back into yellow class we made 'leaf kebabs' and we then put them in the shape of the number 100, to mark remembrance. We learnt in our cross-phase groups, which is 10 yellow, 10 Zog and 10 Pegasus all mixed together. In these groups we worked with each other to write an Autumn poem.
During the day we also did lots of creative activities, such as leaf rubbing, painting Autumn trees and using pastels to create Autumn pictures.
This week we have been learning the following tricky words: I, no, to, go, the, into.
Term 1 Week 7- Goldilocks and the Three Bears
This week we have been learning the story 'Goldilocks and the Three Bears'. We made our own porridge and talked about how the oats and milk changed. We have made bear masks and our own Goldilocks puppets.
We looked at objects in Goldilocks' basket and wrote the sounds we could hear in our writing books. We have also been using our phonic knowledge when practicing sounding out 3 letter words and blending them to read.
Our sounds this week have been: r, h, b, f, l
Term 1 Week 6
This week we have continued with our 'Three Little Pigs' topic. We have retold the story using puppets and using the story language. We have counted out bricks to put in the pigs wheelbarrow, remembering to count slowly and saying a number name for each object.
We have also been talking about the changes that are happening now it is autumn. We went on a welly walk around school, looking at the forest, pond and allotment. We could see the leaves falling off of the trees, different coloured leaves and we even saw a squirrel.
We have also got our first reading book. We looked at the first few pages in school and are really excited to read it to our adults at home.
This week our sounds have been: c, k,ck, e, u
Term 1 Week 5
This week we have been learning about the 'The three little pigs'. We have joined in with telling the story and explored the different activities in the resource area. We have used positional language to say where the pig is on the farm and been creative like the unicorn when building a house for the three little pigs. We also thought of what we could put in our house to stop the wolf getting in.
Our sounds this week have been: n, m, d, g, o.
Just a reminder that our curriculum evening is on Wednesday 10th October at 6:30 pm. It would be great to see you there.
Our First Week Full Time
The children have all settled in well to their first time in school all day and have been getting to know all of their new classmates. The children have also done really well at lunchtime and playing outside at playtime with the year 1 and 2 children.
This week the children have played rhyming games and have had to choose which words rhyme, counted objects, making sure they count slowly and say a number name for each object. They have also talked about their families and special times that they have shared.
In phonics this week the children have learnt the sounds s, a, t, p, i. We have learnt the sound and action. They have also thought about words that begin with those sounds too.
Our first week in school
We have had a great first week in yellow class. All the children are beginning to settle into school life well. We have been on a tour of the school, played in the playground, outdoor classroom, resource area and in yellow class. We are starting to make new friends and learn other children's names too.