Big Picture - Talk like a sportsperson/athlete/gymnast/dancer (PE)
When we are physical we are developing our motor skills and learning what our bodies can do. It's great for wellbeing and developing self-esteem and confidence. It can be a social event; working by yourself or together in a team. By listening and following the feedback from your classteacher/coach you can get better at practising and linking skills. Through competition and celebration you will learn to win/lose and be a great sportsperson.
At St Stephen's Infant School, we understand the importance of Physical Education (PE), exercise and well-being. We aim for all children to access high-quality PE provision each week to promote healthy bodies and healthy minds.
At SSIS we recognise the impact of Active 30:30, which recommends that all children should engage in 60 minutes of physical activity every day, 30 of which should be in school. Our school grounds provide children with enough space to choose how to be physically active. The children can independently choose to use the daily mile running track, short burst activity stations, basketball area, football zone, climbing wall and the trim trail, which includes different level climbing apparatus.
At SSIS we believe in the importance of providing a wide variety of different activities. We offer a range of after-school clubs throughout the year including football, gymnastics and Zumba.
EYFS & KS1
All children receive 2 hours of PE per week, following the Val Sabin scheme of work. In the EYFS, children develop their movement skills through exploring spatial awareness, balance and co-ordination. As children move into KS1 they will continue to develop these core skills by implementing them through mini competitive games. We also have specialised coaches from Premier League by Bristol Rovers Football Club, who lead multi skills sessions for all year groups throughout the year.
Below are the SSIS progression of skills documents for PE.
PE at St. Stephen's Infant School
Cricket Coaching March 2019
To promote the Cricket World Cup this year, we have been really lucky to be involved in some coaching sessions to introduce the game. Each class took part in a range of activities to develop throwing and catching skills - all needed to be a pro fielder! A huge thanks to John and Craig from Gloucestershire Cricket for providing this! We all had a great time!
Take a look at some of us in action...
On Monday 26th November 2018 Miss Rice took some of our Year 2 children to Mangotsfield Secondary School to take part in the KS1 Striking Festival.
The children completed a range of ball skill activities including dribbling, balancing using rackets and cricket. SSIS came joint 6th out of 12 schools! Well done everyone!
SSIS Y2 Team: Alanna Powell, Sienna Whitehead, Sonny Stinchcombe, Harvey Edwards, Raeya Drake, Mius Creed, Amadou Deme.
Gym Club presentation Thursday 7th February 2018

Gym Club performed a fantastic routine to their parents/carers and they were then awarded their Level 8 badge and certificate. The children have worked very hard learning and practising their gym skills. A big 'thank you' to Mrs Stokes, Mrs Dyte, Mrs Hunter and Ellie's mum for running Gym Club. Keep up the good work.
Monday 29th January 2018 -Inter-Schools KS1 Throwing & Catching competition.
On Monday 29th January 2018 Ms Rice (PE Subject Leader) took some of our Y2 children to Mangotsfield Secondary School for an
Inter-Schools KS1 Throwing & Catching competition.
The children completed a range of throwing and catching tasks. SSIS came 3rd out of 10 local schools. Well done everyone! Thank you to Ms Rice for organising this.
Our team received certificates in Celebration Assembly on 2nd February 2018.
SSIS Y2 Team: Sam Bell, Jayden Jefferies, Ffion Lovell, Shanade Williams, Kady Murray, Izabelle Green, Freddie Cousins and Edward Babaj.
Saturday 20th January 2018
What a Gas!
We had a great afternoon at The Mem watching the Gas beat City. (Bradford)
The children took to the pitch before the game for a team photo.
Thanks to BRFC for the 50 free tickets. It was the first live match for a lot of the children and what a belter!
Thanks to all the parents/carers for braving the cold!
A great day out- UTG!
15th September 2017
Premier League Primary Stars programme.
This year Abbie Jones, from Bristol Rovers FC, will be visiting the school every Thursday afternoon. Abbie is part of the Premier League sponsored Primary Stars programme.
Abbie will be leading PE sessions , a lunch club and an after school club (details to follow) as part of the programme.
We will also be given 50 free tickets to see The Gas and have a visit from a first team player!
This term Abbie will be working with Gruffalo and Zog classes. Abbie joined Mrs Manning, Mrs Otter and the children yesterday!
Watch this space for more info
Wednesday 12th July 2017
SSRFC Presentations.
Our KS1 footballers finished their season with a presentation ceremony infront of their parents/carers. The children were awarded a medal/trophy and a certificate for their hard work and commitment to training.
Adam also awarded Lily and Cole for their support with the training sessions.
The children then thanked super-coach Adam Bull and presented him with a 'thank you' gift.
KS1 Footie Club will return in the new school year.
Can we kick it? Yes we can!
Sports Morning - Friday 7th July 2017
Well done to all the children for performing like true superstars today.
Thank you to the staff for preparing and leading the children through the morning. Special mention to the following staff for scoring/helping on the race track throughout the morning:
Ms Atherton, Ms Austin, Mrs Bell, Mrs Hunter, Mrs Jackson and Mrs Toon. Thank you to Mrs England - our offical photographer. We will share photos from the morning early next week.
It was lovely to see so many parents/carers here enjoying the gorgeous weather.
The Friends kindly donated an ice lolly for every child.
Congratulations to this year's winning classes:
Red, Gruffalo and Pegasus!
WE ARE THE CHAMPIONS!
Y2 Inter School Football Tournament
Thursday 23rd June 2016
Well done to our Y2 5 -a side team who triumphed in an Inter School tournament hosted here today.
The Euro 2016 themed competition involved teams from other local schools adopting a country.
St Stephen's Infant School represented France and made it through the Group Stages to reach the Final against
Beacon Rise.
We were 2-1 down with a minute to go when this happened.....
The Final
Penalty Shootout!
So with the score at 2-2 the Final went to a penalty shootout.
After 3 penalties each the score was 2-2.
It went to sudden death and Beacon Rise missed a penalty which meant Owen Burr needed to score to win the tournament for SSIS...........
Well done to the team - you were fantastic!
Thank you to all of KS1 Footie Club and in particular to our coach Adam Bull for masterminding the victory!
Bring on Iceland!!!!
Term 6 Daily Mile Trial
Red Class, Elmer Class and Pegasus Class have started the trial this week.The Daily Mile is an initiative that was started at St Ninians Primary School in Scotland. You may have seen it on the news! Every day each child aims to walk or jog a mile. The class all go out at the time of the teacher's choosing and try and walk or jog as far as they can within 15minutes. Some children will reach a mile some may not but this does not matter. The whole point of the Daily Mile is to improve children's physical and mental well-being. Children get to go outside each day and jog or walk with their friends.
There is lots of research which indicates that active children do better, are healthier, are emotionally secure, that their brains work better and that they develop positive life skills. As well as this research has shown that a physical activity break from the classroom can then improve attention, concentration and motivation.
So far the children are really enjoying the trial and have been very enthusiastic about it. It has been lovely to see so many children and teachers walk , jog or run each day. We hope that we gain lots of information from the trial so that we can decide whether to make it a permanent part of our school day.
Infant Agility
The Year One and Two children were very lucky on the 18th and 19th of May to take part in an agility session. The children were able to challenge themselves across a range of agility activities including jumping, bouncimg a ball and many more! Year 6 children from the Juniors helped to run the sessions byfirstly modelling the tasks and then helping to motivate the children and keep their scores. It was a really fun couple of days and it was so good to hear that lots of the children challenged themselves like the chimp and kept on going like the tortoise. Thank you to the Grange Sports Partnership for organising the event.
We have been having fun doing lots of PE. Now that the weather iimproving we are able to do PE outside as well as inside. The children have been developing their throwing and catching, tennis and gymnastics skills. Here are some photos of the super PE that we have been doing.
Infant Football Festival
Friday 16th October 2015
Well done to our Y1 and Y2 SSRFC footie teams! Both teams played really well in today's tournament.
We hosted the festival of footie with teams from 4 other local schools: Bromley Heath, Beacon Rise, Frenchay and Bailey's Court. Congratulations to Bromley Heath who won the tournament.
Well done to all our players who were a credit to the school. BIG thank you to our super coach Adam Bull and Jenson's dad!Thank you to Mrs Hunter for her support and to all the parents/carers who came to cheer the children on.
Finally, thank you to our Y6 Sports Leaders who helped keep the teams focussed between matches.
SSRFC will be back early in 2016!
Jump Rope Day
Friday 10th July 2015
'Jump Rope Day' was hot, fun and exciting for all the children and staff!
It was great to see the children skipping and trying out new 'stunt' skips. Lots of children learned to skip for the first time. The children and staff kept going like our 'Elli' Tortoise character despite the exhausting heat!
Lots of parents/carers and grandparents turned up to watch the children. It was lovely to see some of them joining in and having a try at skipping.
So far we have raised over £500.00 and more money is still coming into school. We will be sharing the donations between British Heart Foundation, Winston's Wish (Bereavement Charity) and buying new play equipment for school.
Please don't forget to send in your sponsor money as soon as possible!
Many thanks to all the staff for a great day's skipping especially the team who supported Mrs Stokes throughout the day.
Can we kick it? Yes we can!
St Stephen's Rovers Football Club's end of season presentation took place on Thursday 2nd July. Coach Adam Bull presented medals to all members of our first ever KS1 squad. The squad, their parents/carers and Mr Ruck thanked Adam for his incredible commitment. Mr Ruck presented Adam with a SSRFC kit to say 'Thank you'. SSRFC will be back in the new school year.
Sports Morning
Friday July 3rd 2015
We hope you enjoyed the Sports Morning as much as the children did. The weather was perfect and the children showed their sporting skills and team spirit. The staff did a great job organising the 3 zones.Thank you to the Friends for providing refreshments and an ice lolly for every child.
Congratulations to the winning classes in each year group:
Reception: Red Class Y1: Gruffalo Class Y2: Pegasus Class.
Thank you for coming to cheer the children on and to those of you who raced!
SSRFC v Bristol Rovers Youth Supporter's Club
Southey Park
Thursday 14th May 2015
Well done again to SSRFC who put on a battling performance against the experienced BRFC Youth Supporter's team. We drew one match and lost three. SSRFC showed great team spirit and positivity. We will march on! Thanks again to Adam 'Mourinho' Bull for his coaching and to Mrs Hunter and all of you who came to support the team.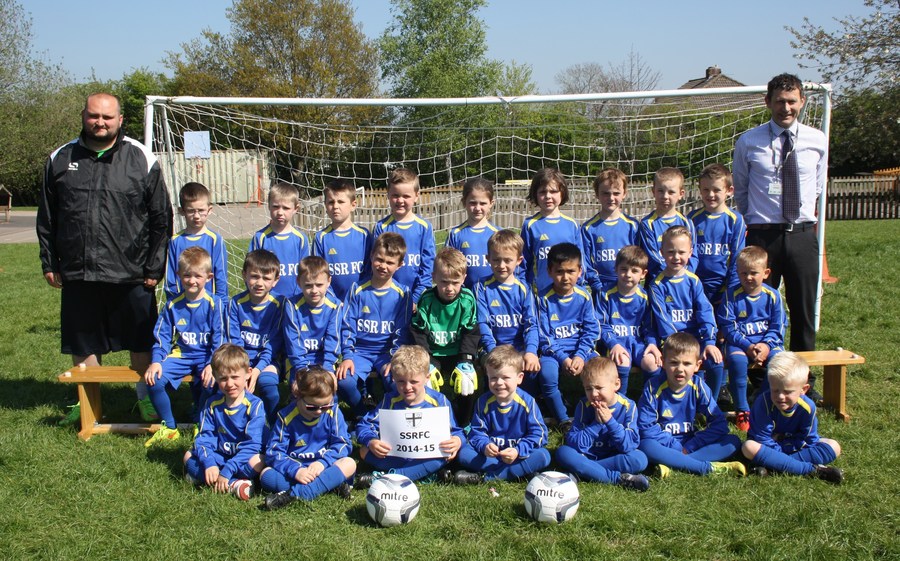 SSRFC 2015
Congratulations to the 8 members of our St. Stephen's Rovers Football Club (SSRFC) squad who took part in the KS1 Football Festival at Downend Sports Centre on Tuesday 28th April 2015.
The team played 4 games and won 3, narrowly losing out on winning the tournament.
We lost on goal difference. Our runners-up place was very well deserved. The team played brilliantly and were an absolute credit to the school and their coach Adam Bull.
Tuesday's players were: Jack Sheppard (Goalkeeper), Elisha Cole, Ben Hollister,
Ashton Burr, George Shiner, Oliver Bull, Reece Southcott and Ellie Johnson.
At times we looked better than Barcelona (and a lot better than Bristol City) passing the ball unselfishly and working hard for each other. Great performances all round!
Thank you to Mrs Hunter and Mrs Chapman and the parents/carers who came along to support SSRFC! We are planning more fixtures before the end of the school year.
Well done to the rest of our squad - pictured above - who have trained really well with Adam every Thursday over the last few months. KS1 Footie Club will return on 4th June 2015.
SSIS GYM CLUB PRESENTATION AFTERNOON 12/2/15
Well done to our talented gymnasts! We presented our KS1 Gymnasts with a range of BAGA badges and certificates this afternoon. The club has been meeting every Thursday since November and the children have learned new skills and developed their core strength. Thank you to Mrs Stokes, Mrs Hunter and Mrs Dyte for running our
Gym Club!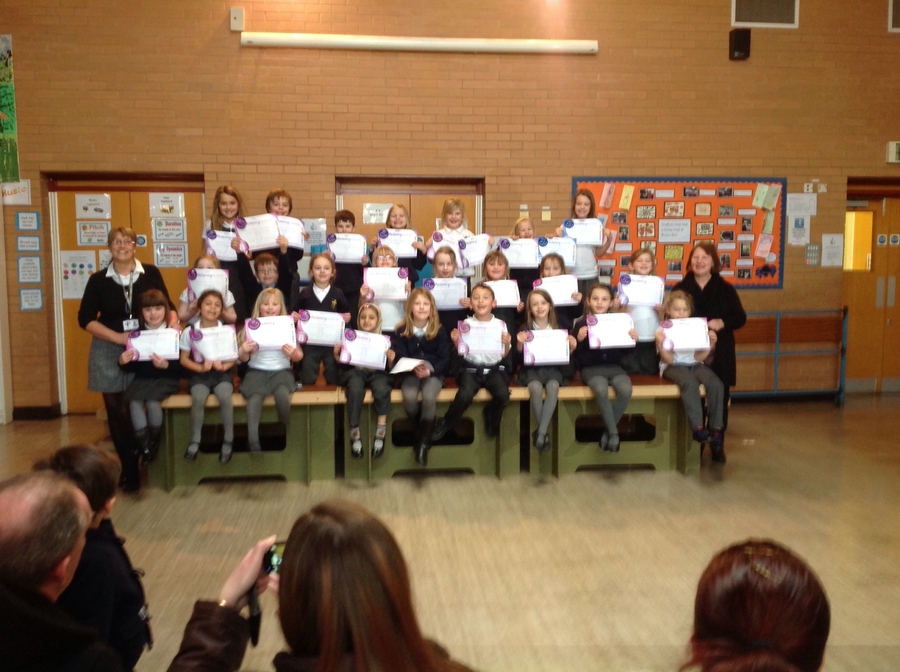 Congratulations to our Y1 and Y2 Agility Challenge Champions!
Infant Agility Challenge January 2015
All Y1 and Y2 children took part in a very successful and enjoyable 2 day Agility Fitness challenge supported by
The Grange School Partnership.
The activities included balancing, sprinting and timed running trials as well as distance throwing and long jumping.
The class sessions were supported by Y6 pupils from St. Stephen's Junior School.
The Y6 pupils helped lead the challenge and motivate the children and were a credit to their school.
We were delighted to see how much the children enjoyed the varied activities as well as their enthusiasm for taking part.
It was super to see our future Olympians in action!
Ms Chapman and Mrs Stokes - P.E. Leaders