Arts Week 2022
We have been very creative this week. We have been learning all about Bristol and about art that we can find around the city. We started the week by seeing a miniature hot air balloon, we even went inside it! We then used this experience to inspire our collages of Bristol hot air balloons. Emma from 'Go Sketch' showed us how to use paint sticks and collage to create patterns on our balloons.
Trip to Court Farm
We had a fantastic day at Court Farm. We got to look around the farm and see the animals, watch a cow being milked and feed the lambs. After lunch we had a play in the adventure play area and had a very bumpy tractor ride! We had so much fun that we fell asleep on the coach on the way home. (click on the photos to enlarge them)
Celebrating the Queen's Platinum Jubilee
To celebrate the Jubilee, we wore red, white and blue clothes to school, made crowns, had a party in the resource area and then a tea party on the field.
Spring Day
We went on a walk to look for signs of spring. We noticed buds growing on the trees, flowers in the allotment and blossom on the big tree. We also heard birds singing.
We planted our sunflowers, ready for the SSIS growing competition, and learnt about what sunflowers need to grow.
We took inspiration from Vincent Van Gogh's 'sunflowers' painting and did observational drawings of daffodils. We used special sketching pencils and used our new sketchbooks. We looked closely at the shape of the daffodils.
10 Class Smiley Faces
As a treat for getting 10 class smiley faces we chose to have a film and a biscuit. We watched 'The snail and the Whale' and had a little gingerbread person biscuit and some milk. We really enjoyed making yellow class into a cinema!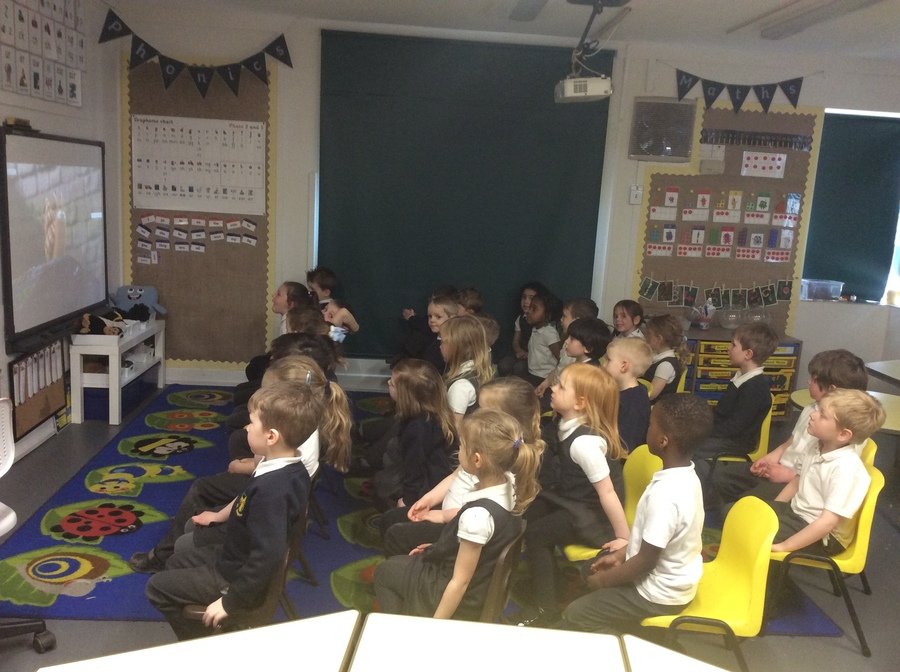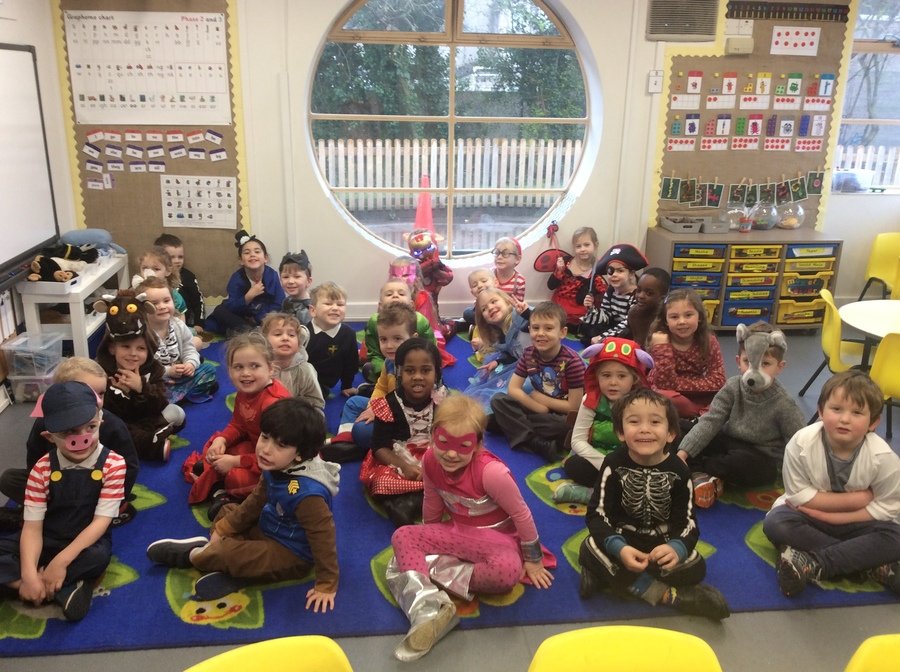 Firefighter Visit
Today we had a visit from Max's Uncle Simon who is a firefighter, at the Kingswood station. The children learnt about their job and how they help people, what to do in a fire, and the stop, drop and roll technique. The children then got to have a look around the fire engine and walk through the section where the firefighters sit.
Road Safety Day
Today we had a visit from Lottie from the South Gloucestershire road safety team. She told us a story about Paws the bear and his mummy. We learnt about how to cross the road safely and the importance of holding hands. When we were out in the resource area later in the day, we used reflective material to create our own reflective badges and we put them on our coats or book bags.
Winter Day
Our second season day was lots of fun, but a little chilly! We started off our day by going on a winter walk. We looked out for signs of winter. We saw frost on the grass and leaves, we could see our breath in the air and there were no leaves on the trees. We heard an owl and some birds too. When we came back inside we drew winter pictures using white chalk on black paper and we also drew what we saw and heard on our walk.
In the afternoon we looked at 'The Magpie' By Claude Monet and talked about what we could see in the painting and how it made us feel. We then used cool coloured collage materials to create our own winter scenes.
Autumn Day Term 2 Week 4
Click on the thumbnails to enlarge the picture.
Term 2 Week 3- Friendship week
This week we have been fab friends and working together like teamwork bee. In the forest on Monday we worked together to collect natural materials and use them to create art, we also worked together to build models and draw pictures.
On Wednesday we made friendship bracelets and worked carefully to thread the beads on to our elastic.
In literacy we took a photograph of our friend and wrote about why they are a good friend. We used words such as kind, caring, friendly and happy.
In phonics we have now learnt the sounds: h, b, f, l, ss, ff, ll and the sight words: to, the, into.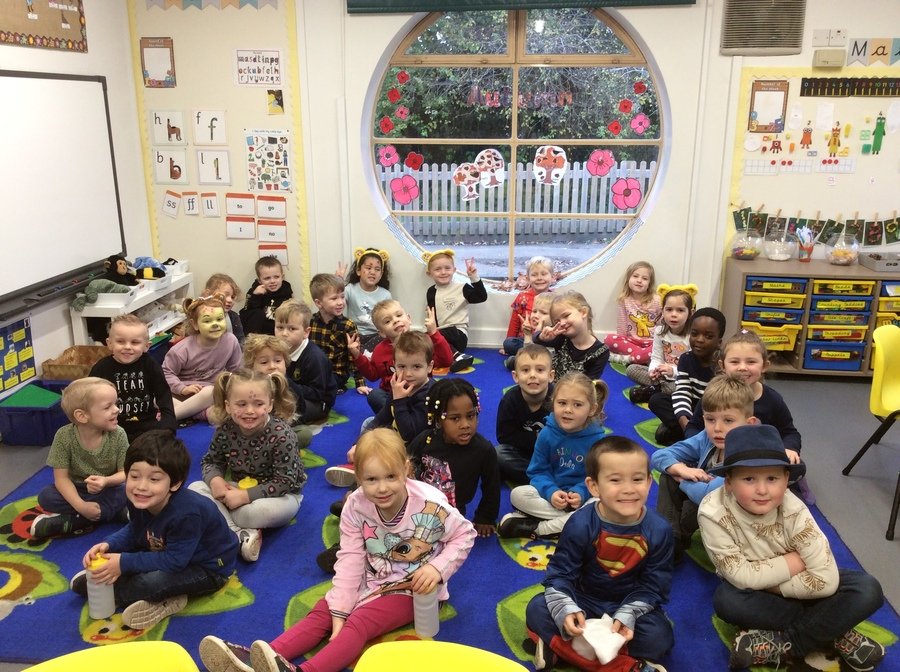 Click here to see Parents' curriculum workshop November 2021
Term 2 Week 1
We have had a great start to Term 2. The children have settled back in well and we have loved learning about our new topic 'Celebrations'. This week we have been learning about Diwali. We have learnt about what Hindu people do during Diwali, and compared this to other celebrations that we know about (Christmas, Halloween etc.). We found out that people decorate their homes with lights and bright things as Diwali is a celebration of light. We've even had a go at making some Diwali decorations including rangoli patterns.
On Thursday (Diwali), we were lucky enough to have Mrs Kiran, from Year 2 show us some beautiful things and told us more about how she celebrates Diwali. She told us the story of Diwali, brought in some traditional clothing, demonstrated some rangoli patterns, and also showed us some beautiful diva lamps. We were very interested in learning more and listened so well. Some lucky children even got to try on some traditional clothing and jewellery.
In our forest session this week we explored the school grounds looking for natural materials. We then sorted them into groups and described what the leaves, conker shells and sticks were like.
In Phonics we have learnt some more new sounds. Please help your child learn these at home using the flashcards in their phonics folder. You can cut these cards out if you like and use them like a pack of cards, or even use them to make some simple words for your child to read e.g. dog, cat, pin, mat.
We have learnt:
s a t p i n m d g o c k ck e u r
We've also learnt these sight words (they can't be sounded out and we need to just remember them:
I no go
Term 1
We have had a great first term in Yellow Class. The children have settled well into school life and have made lots of new friends. It has been lovely to see them making new friendships and seeing all of their personalities come through.
Our ipads were away being fixed and having updates for 2 weeks. Now they are back we can begin taking photos and documenting the children's learning again. Please see below photos of the children in the resource area.
We have been looking for signs of Autumn and discussing the changes that are happening. We went out into the school grounds to collect leaves and we talked about all of the different colours we could see. We have also read stories around animals that are getting ready to hibernate and learning lots of language relating to Autumn.
In phonics we have now learnt the following sounds, s, a, t, p, i, n, m, d, g, o, c, k and the sight word I. In literacy this week we had a go at hearing the initial sound and writing it down in objects that we would take with us if we were hibernating.
On Thursday your child's reading record and reading books will be sent home along with a phonics folder. Please read the enclosed letters and if you have any questions please come and see me.
Have a lovely half term break and we will see you back in Term 2.
Our First Week Full Time
The children have had a great week at school and have settled in well as a class of 30. They have done really well at lunchtime and have settled into the routine of lunchtimes.
We have been listening to and retelling the story of 'We're going on a bear hunt' and have been writing messages to the bear. The children enjoyed moving in different ways during PE and have been learning about rhyming words in phonics. On Friday we visited Pegasus class. The Year 2 children had been writing an autobiography and read them to us.
Our First Week at School
The children have settled into school really well. They have become familiar with their new environment and are starting to make new friends. We have been on a tour of school and said hello to Mr Ruck in his office, played in the resource area and outside. We have also explored the forest. This week we are also going to go on the library bus and move in different ways around the hall for PE.
We have really enjoyed meeting and spending time with all of the children in Yellow Class. Keep checking back to the Class Page for updates and photos.